---
Next Public Performance
Friday, October 18, 2019
Chef Shangri-La Dinner Show
8:00 - 9:00 PM
River Grove, Illinois
Enjoy a FREE Barefoot Hawaiian show with your Dinner
Generally held the third Friday of each month
No prix fixe menu or price
Simply order what you want from the large selection dinner menu
and enjoy the complimentary Barefoot Hawaiian show - no additional charge
Barefoot Hawaiian show time is 8:00 - 9:00 PM
Reservations Strongly Encouraged
Call Chef Shangri-La during their business hours to make your reservation
Reservations not required but recommended in case restaurant is busy
Strongly recommended to get a table with good show viewing
Chef Shangri-La
Asian Fusion Cuisine and Tropical Drinks
7930 W. 26th St.
North Riverside, IL
708-442-7080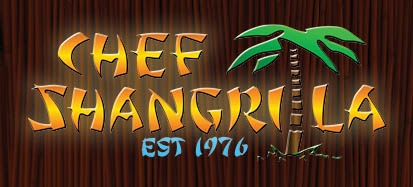 ---
Upcoming Public Performance
Saturday, October 26, 2019
Hala Kahiki Lounge Dinner & Show
5:30 - 7:00 PM
River Grove, Illinois
$36.50 (per person) provides the Dinner and Show package
Dinner is a Barbeque-based dinner of Pulled Pork,
Hawaiian rice, Chicken & Steak Kabobs, Coleslaw, and Grilled potatoes.
Each Barefoot Hawaiian show at the Hala Kahiki is different...
New Costumes, Different Dancers, Lots of surprises that change with each performance.
Hala Kahiki dinner seating starting at 5:30 PM
Barefoot Hawaiian show time is 6:00 - 7:00 PM
Reservations Required
Call the Hala Kahiki Lounge during their normal business hours to make your reservation
Business hours are on their web site
Hala Kahiki Lounge & South Seas Gift Shop
2834 River Road
River Grove, IL 60171
708-456-3222
info.halakahiki@yahoo.com
---
Barefoot Hawaiian has a Blow-Out Success of
Chicago Wolves Tickets Sales for January 18 Game
The Barefoot Hawaiian is performing for the Chicago Wolves on January 18 for their "Hawaiian Night" game. Through a cooperative with the Chicago Wolves, the Barefoot Hawaiian was selling tickets for this game at the special discounted price of just $15. See Event Schedule page for more on this game and Barefoot Hawaiian performance.
The Barefoot Hawaiian is happy to report the total sales of 166 tickets. We will be occupying nearly most of an entire section. If you go to the Saturday, January 18 game and did not purchase through the Barefoot Hawaiian, then, in addition to enjoying a great game by the Chicago Wolves, and a performance by the Barefoot Hawaiian, look up to section #213 where you will see 166 happy supporters of both the Chicago Wolves and the Barefoot Hawaiian - a great combination.
Thanks to all of you who purchased a ticket for this game. We are going to have fun.
Note that the Barefoot Hawaiian is making no money on the ticket sales campaign.
This was simply a service to the community and our Chicago Wolves fans.
The Specially Discounted $15 Tickets Sales is Now Over
---