Latest News and Information
Wednesday, November 13, 2019
—— IN THIS EDITION ——
Registration deadline for the 2nd Quarter of Classes is this Friday, November 15
Next Public Performance: Friday, November 15 - Chef Shangri-La - Dinner Show

---
Open Enrollment Ends This Friday, November 15
For 2nd Quarter Classes
Hurry! Open enrollment for the second quarter of classes ends this Friday. The open enrollment period is the period where you can register for a class with assurance you can get in. The second quarter starts next week. Registration is available to all, including new students that wish to start this quarter.
If you are a new student wishing join the 2019-2020 school year starting the 2nd quarter, please call the Barefoot Hawaiian office (847-699-7336) immediately for your registration form and more information.
Existing students currently enrolled in 1st quarter have already been sent their packet for the 2nd quarter.
Hurry! All registration forms with tuition included must be received by the end of the day this Friday.
Click HERE to jump to our 2nd quarter schedule to see our class offerings.
---
Next Public Performance
Friday, November 15, 2019
Chef Shangri-La Dinner Show
8:00 - 9:00 PM
North Riverside, Illinois

Enjoy a FREE Barefoot Hawaiian show with your Dinner
Generally held the third Friday of each month
No prix fixe menu or price
Simply order what you want from the large selection dinner menu
and enjoy the complimentary Barefoot Hawaiian show - no additional charge
Barefoot Hawaiian show time is 8:00 - 9:00 PM
Reservations Strongly Encouraged
Call Chef Shangri-La during their business hours to make your reservation
Reservations not required but recommended in case restaurant is busy
Strongly recommended to get a table with good show viewing
Chef Shangri-La
Asian Fusion Cuisine and Tropical Drinks
7930 W. 26th St.
North Riverside, IL
708-442-7080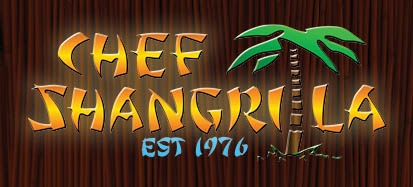 ---