---
Discounted Concert Tickets Go On Sale May 23
Tickets for the 14th Annual Halau Concert
Go on Sale Wednesday ~ May 23
Purchase Discounted Tickets in Advance and Save
Saturday, June 23, 2018
Paradise: Found! Show
The 14th Annual Halau Concert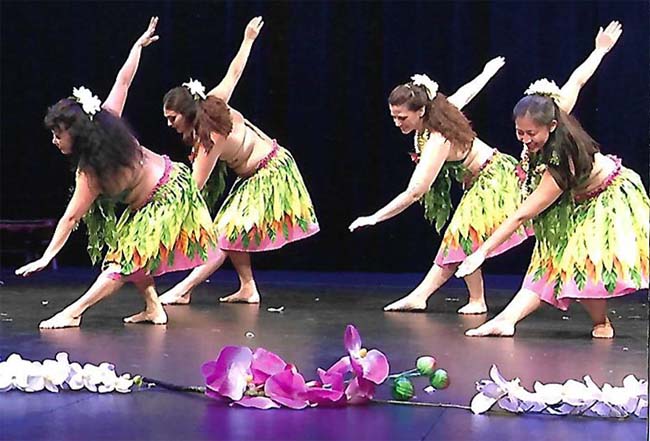 Des Plaines Park District
The Prairie Lakes Community Center Theater
515 East Thacker
Des Plaines, Illinois
This is a Barefoot Hawaiian Special Event
Enjoy an evening of Music, Entertainment, and More
One-Day, One-Show Only
Ticket Prices
At the door (cash only): Adults (13 and up): $19.00, Children (12 and under): $11.00

Discount for advanced purchases: Buy tickets in advance and save $1 per ticket, plus have three ways to pay
By Advanced Purchase: Adults (13 and up): $18.00, Children (12 and under): $10.00
Cash, Check, and Credit Cards accepted for tickets purchased in advance
(Infants and children under 1 year being held and not occupying a seat are free - no ticket required)
Advanced Tickets will go on sale May 23, 2018
All Tickets are General Admission - No reserved seating
This is a rare opportunity for the general public to see our 2018 Paradise Found show in indoor auditorium comfort and seating, entirely sponsored by the Barefoot Hawaiian. All student divisions will be performing with special emphasis on our younger dancers. This is the perfect opportunity to see what our students have learned this past school year. The show will be supplemented with some special performances by dancers from professional dance troupe. This complete and unabridged, "director's cut" of the show will run about 3 hours and is our best bargain of the year.
Show Time: 7:00 – 10:00 PM
Theaters doors open at 6:00 PM
Show includes an intermission
From 6:00 - 7:00 PM in the lobby outside the theater will be a bake and craft sale
Download the Complete Flier and Ticket Order Form (414K)


Download the Theater Seating Chart (84K)

---
A Huge Success ~ Thank you!
"Dance Your Okole Off" Fund Raiser held on April 29
Fund-Raising Event for Samaritan's Purse and for K9s for Warriors
A big thank you to all those who came out this past Sunday to join in the fun with 8 Total Workshops and other activities donated by the Barefoot Hawaiian over the 4-1/2 Hour fund-raising campaign for the above charities.
We are proud to announce that through your attendance and contributions, the event was a complete success. After expenses involved in running this event, a sizeable and substantial donation, shared equally, was provided to Samaritan's Purse and to K9s for Warriors.
Thank You!
---
Spring Huga
Harmony, Unity, Gratitude, & Aloha
Tone, Relax, & Wind Down
Yogo combined with Hula
Spring Huga runs on Wednesday evenings at 7:30 PM from the start of spring on March 21 and through June. No formal signup. Come when and as often or as little as you want. Purchase individual classes or a discount punch card of 8 classes for a discount. Download the flier for full schedule and details.
Download the Huga Flier (268K)

---
---