---
Happy Thanksgiving!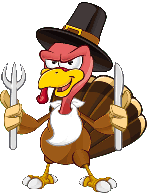 All of us at the Barefoot Hawaiian wish all of you a Happy Thanksgiving and safe travels to wherever your celebration of thanks takes you. And we hope all of you enjoy your Thanksgiving Feast.
We also wish all of you – our clients, followers, and friends – a very gracious Thank You for your support over this past year. We would not be here if it were not for you.
When you see us in the Thanksgiving Day Parade (below) know that we are there honoring you and all you have done to keep the Thankful Spirit of Aloha alive and well here in the Midwest.

Mahalo!
---
Next Public Performance
Thursday, November 22, 2018
McDonald's Thanksgiving Day Parade
(Chicago State Street Thanksgiving Day Parade)
8:00 - 11:00 AM
Barefoot Hawaiian's 20th Anniversary in this Parade!
This year, Barefoot Hawaiian will have over 70
(one of our largest ever) representatives in the parade and performing
Professional Fire-Knife Performers
Professional Dancers
Keiki Division Dancers
Wahine Dancers
Drummers
Banner Carriers
As has been Chicago's tradition, the Barefoot Hawaiian
is the only Hawaiian Entertainment company invited
to participate in the Thanksgiving Day parade.
Parade Position: 13A
Watch us on Television Live on WGN-TV Channel 9
and WGN affiliate stations
Show Time: 8:00 - 11:00 AM
Visit
The Chicago Festivals Web Site
---
Holiday Alphabet 50% Off Something Sale
Saturdays in November & December
Running from November all the way to Christmas, is Barefoot Hawaiian's Holiday Alphabet 50% Off Something on Saturdays Sale. On Saturdays, from 1:00 to 3:00 PM, starting November 3 and ending on December 22, will be a 50% off sale on three groups of merchandise with it being a different group of three every week in an alphabet countdown.
Following is our countdown schedule of Holiday Alphabet 50% Off Something Sale Items
November 3 - Aloha shirts, Blouses, and Christmas Santa Items (ABC)
November 10 - Dresses, Everything Orange, and Flowers (DEF)
This Week >>> November 17 - Green Items, Hawaiian Plaques, and Interesting Fabric (GHI)
This Week >>> November 24 - Jewelry, Kukui Nut Leis & Bracelets, and Lotions (JKL)
December 1 - Maui T-Shirts, Nice Plumeria Hair Clips, and Our Own Hula Plaques (MNO)
December 8 - Pareos, Quintessentially everything Red (PQR)
December 22 - Shorts for Men, Tuberose Leis, Unusual Earrings (STU)
Sale Hours
Saturdays from November 3 to December 22
1:00 - 3:00 PM
(Sale is on new & regular merchandise only and excludes all consignment items)
---
Upcoming Public Performance
Saturday, November 24, 2018
Hala Kahiki Lounge Dinner & Show
5:30 - 7:00 PM
River Grove, Illinois
$36.50 (per person) provides the Dinner and Show package
Dinner is a Barbeque-based dinner of Pulled Pork,
Hawaiian rice, Chicken & Steak Kabobs, Coleslaw, and Grilled potatoes.
Each Barefoot Hawaiian show at the Hala Kahiki is different...
New Costumes, Different Dancers, Lots of surprises that change with each performance.
Hala Kahiki dinner seating starting at 5:30 PM
Barefoot Hawaiian show time is 6:00 - 7:00 PM
Reservations Required
Call the Hala Kahiki Lounge during their normal business hours to make your reservation
Business hours are on their web site
Hala Kahiki Lounge & South Seas Gift Shop
2834 River Road
River Grove, IL 60171
708-456-3222
info.halakahiki@yahoo.com
---
---