Originally, in traditional tribal Hawaii only the men performed the hula. Much the same is true with all the other tribal dances performed throughout the South Pacific islands. Originally, women were prohibited from performing these dances. The Barefoot Hawaiian takes you back to these ancient times with our Klub Kane Revue.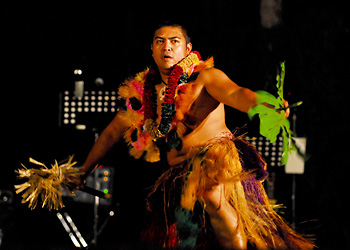 Klub Kane Revue is an all male performance. Sophisticated and completely dignified, Klub Kane Revue reenacts many of the original tribal traditions found throughout the ancient South Pacific. A Barefoot Hawaiian exclusive performance and the first all-male Polynesian show in the Midwest, Klub Kane Revue is unique as it is currently the only regularly performed all-male revue by a Midwest Hawaiian performing arts company.
Barefoot Hawaiian has been running its Klub Kane Revue since 2005 and for four years it has only been available, by special arrangement, and only to specific businesses such as restaurants and lounges. Now, in 2009, by popular demand, we have added Klub Kane Revue as a permanent addition to our entertainment programs and have made it available to everyone. Now you can arrange this special performance for your event by calling us today.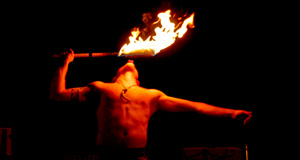 Klub Kane Revue is excellent choice entertainment for
Bachelorette Parties
Engagement Parties
Bridal Showers
Women's Clubs
Single's Groups
Restaurants and Banquet Facilities
Lounges, Bars, and Nightclubs
Holiday Parties
Klub Kane Revue comprises ¹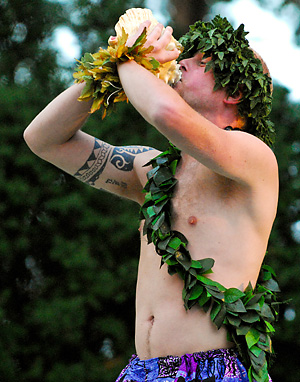 Show sizes from 1 to 5 male performers
Samoan Knife Dance
Siva Afi ("The Dance of Fire") ²
Maori Haka ("The New Zealand War Dance")
Fiji Wese ("The Fiji Ceremonial Dance")
Conch Shell Blowers
Samoan Slap Dance
Hawaiian Kahiko Hula (an ancient hula)
Hawaiian Auwana Hula (a modern hula)
Maori Poi Balls
Cook Island Drum Dance
Tahitian Drummers
Tahiti's Otea (the traditional Tahitian drum dance)
Lei and Warrior Greeters
Audience Participation and Interaction (strictly voluntary)
Props and costuming (for the participating audience)
Photo Opportunities (strictly voluntary)
Sound and music (CD) and equipment as needed
A totally dignified and respectable performance guaranteed
Ultra-conservative options always available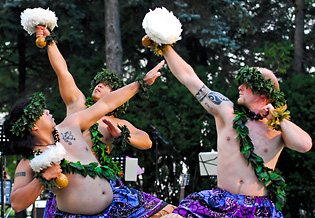 Footnotes pertaining to the above:
Exactly which is included in your show will depend on the size of the show you want in terms of number of performers and length of show, location, and your requirements. Not all items listed will or can be included in every show. The details of what acts can be and will be included in your show will be discussed during your inquiry.
The Dance of Fire (Siva Afi) performance, a.k.a. Fire Knife Dance, has specific location and environmental requirements and limitations. It may not be performable for your event. In lieu of the Fire Knife performance, the Samoan Knife Dance, (the same knife dance but without fire) is always available.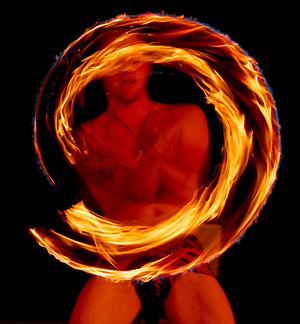 Your Klub Kane Revue show will always be a totally dignified performance.  At no point will any of our performers ever reduce themselves to something less by a cheap or sleazy gimmick in their routine.  In fact, these are one of the few requests we must deny.
So whether we are performing for your church social or for your bachelorette party, you will be assured a dignified and totally professional performance of true and authentic artistry.
We are also prepared to tailor our show for any specific conservative requirements you may have. For example, many traditional tribal dances are performed in authentic fashion with the men bare-chested. If this would not be suitable for your desired performance, please tell us and we will make the required adjustments to suit your requirements.
Klub Kane Revue:
Real Men,
Really Savage,
a Real Hunk of a Show.