The following appeared in the Trib-Local – in print, edition TL09, covering Hinsdale, Clarendon Hills, Oak Brook, Western Springs, La Grange, and La Grange Park; August 27, 2009, page 3, Local News section.
---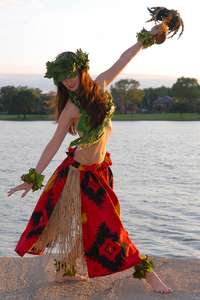 Photo submitted by Michael Mann
A tropical
luau at The
Birches
Assisted
Living
On Saturday, Aug, 29, residents of The Birches Assisted Living will be out of their chairs, hips in motion as they learn the hula.
Residents, families and friends of The Birches are invited to a tropical luau titled, "HULA!" at The Birches Assisted Living, 215 55th St., Clarendon Hills.
A Tiki bar is featured, and the menu includes tropical main courses served buffet style at two seatings at 11 to 11:45 a.m. or 12:30 to 1:15 p.m.
The event will include performances by a member of Barefoot Hawaiian dance troupe who will also teach the hula.
Guests should dress in their best Hawaiian-inspired clothes for a chance to win a prize in the best-dressed islander contest.
Barefoot Hawaiian is a professional touring dance troop of more than 60 entertainers, some of which are world champions who have won awards in competitions as the World Fire-Knife Competition held annually in Oahu, Hawaii and in the World Tahitian Competition held annually in San Jose, Calif.
The public is invited to this event, space permitting. Tickets are $7 each and include the buffet and entertainment.
Reservations are required. For more information call Carol Weigel at 630-789-1135 or visit http://www.birches.net.
- This story was submitted by Andy
Richardson of GR-PR, a Hinsdale-based
public relations firm.