The following appeared in the Trib-Local – online at triblocal.com – (Clarendon Hills) August 18, 2009
---
A tropical luau – "HULA!"
at The Birches Assisted Living

By GR-PR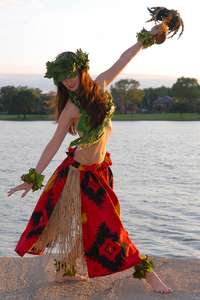 Photographer Credit: Michael Mann
Most people imagine entertainment at a retirement community as someone playing the accordion and residents politely listening. But on Saturday, Aug, 29, residents of The Birches Assisted Living will be out of their chairs, hips in motion as they learn the hula!
The residents, families and friends of The Birches are invited to a tropical luau titled, "HULA!" at The Birches Assisted Living, 215 55th St., Clarendon Hills. A Tiki bar is featured, and the menu includes tropical main courses served buffet style at two seatings: 11 – 11:45 a.m. or 12:30 – 1:15 p.m.
The event will include performances by a member of Barefoot Hawaiian who will also teach the hula. Guests should dress in their best Hawaiian-inspired clothes for a chance to win a prize in the "Best-Dressed Islander" contest.
Barefoot Hawaiian is a professional touring dance troop of more than 60 top notch entertainers, some being World Champions who have won awards in such prestigious competitions as the World Fire-Knife Competition held annually in Oahu, HI and in the World Tahitian Competition held annually in San Jose, CA.
In 1983, Barefoot Hawaiian founder Gwen Keaké akamai Kennedy moved her business and dance studio to Des Plaines. Today, Barefoot Hawaiian has performed for global corporations and has been selected by cities, states and nations to represent the art of Polynesian dance.
The public is invited to this event, space permitting. Tickets are $7 each and include the buffet and entertainment. Reservations are required. For more information call Carol Weigel at 630-789-1135 or visit http://www.birches.net.