The following appeared in the Herald & Review Local, September 8, 2006, First photo with caption was on front page, story will additional photo on page A3:
---
Herald & Review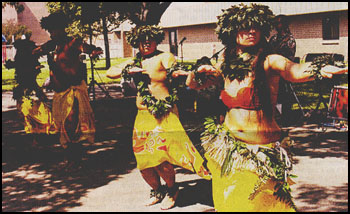 Herald & Review photos/Lyndsie Schlink
---
Aloha, students
| | | |
| --- | --- | --- |
| | Herald & Review photos/Lyndsie Schlink | |
Luau-themed party welcomes everyone back to campus
By SHEILA SMITH
H&R Staff Writer
DECATUR -- The leis were plentiful and so was the big Aloha.
Students enjoyed the rich cultural heritage of our country's 50th state during Richland Community College's welcome back bash Thursday.
The Barefoot Hawaiian Inc. dance company from Des Plaines entertained the crowd that gathered for a luau of hot dogs, hamburgers and dancing.
"We have a welcome back picnic for the students every year. It's not just for new students but returning students," said Christine Smith, director of campus life. "It's our way to welcome everyone back with good music, good food and good friends."
Ryan Kneezel of Decatur seemed to enjoy the picnic. The Decatur Christian School graduate was starting his first semester at Richland.
"My classes are good, and I really like my teachers," he said. "My professor, Jon Odell, came into class on the first day wearing sunglasses, a black cape and had a light saber like Darth Vader He then played a CD with theme music from Star Wars. It was hilarious. It was a way for him to break the ice with the students."
Kneezel was among the students who listened to Barefoot Hawaiian's live band playing songs from the tropical island.
Dancers changed into different costumes during performances - from bright yellow wraparound skirts called "pareaus" and green leaf lei headbands to purple and bark grass skirts while swaying their hips from side to side.
Gwen Keake'akamai Kennedy, director of Barefoot Hawaiian Inc., said hula dancing is becoming more popular, especially in Chicago, because people like the idea of tropical areas. The company's nearly 40 professional dancers perform at the Illinois State Fair, company events and colleges.
But what ignited the Richland crowd was the fire twirling.
Earl Famanas with the dance company has been mastering the art of twirling a fiery baton.
"For safety purposes, we always make sure there is distance between ourselves and the audience and have a fire extinguisher nearby just in case" he said and laughed.
Famanas admitted that he has burned himself a few times during performances.
Day care workers brought out children to watch the fire twirling and dancing.
Kennedy called the young ones "menehunes" -- a Hawaiian term that means "little people"
Sheila Smith can be reached at
sheilas@herald-review. corn or 421-7963.