The following appeared in Wilmette Life - A Pioneer Press Publication , August 18, 2005, first photo and caption was on the front page with story and additional photo on page 11
---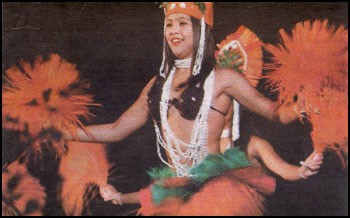 Jason Hanl, Staff Photographer
---
Troupe brings aloha spirit to
Wallace Bowl in Wilmette
| | | |
| --- | --- | --- |
| | Photo by Jason Han, StaffPhotographer | |
BT KEN GOZE
STAFF WRITER
In a matter of weeks, the air along Lake Michigan won't feel anything like a Hawaiian breeze,but for one night each summer, Gwen Keake'akamai Kennedy performers and students bring the South Pacific to Wilmette's Gillson Park
The Des-Plaines based Polynesian performing company and dance studio returned to the Wallace Bawl Fiday for Aloha Night, a show that has been part of the Park District's summer Lineup for 28 years. The show has grown from a handful of performers to a large lineup that includes both a seasoned professional cast of musicians and dancers and young girls such as Nelarii and Ke'alohi Wean of Wilmette, who were inspired to learn the art before they were old for school.
"I started out with six entertainers and now we have over 100," Kennedy said. "It's not a recital but it's a chance for people to see what we can do with the band. People see what it is and it's interesting because people love paradise."
As part of that vision, people think of ukuleles and the swaying motions of hula, and it's all part of what they do. But it's not all the same art form, or all Hawaiian, said Christine Perez, one of the performers.
'When people think of hula dancing, they often think of grass skirts, and that's only one form of it called Tahitian dancing. That's a lot of movement in the hips. For hula dancing, authentic hula, it's a story told by your hands."
Other forms come from New Zealand and some, such as the traditional Samoan fire-knife dancing, are done by men.